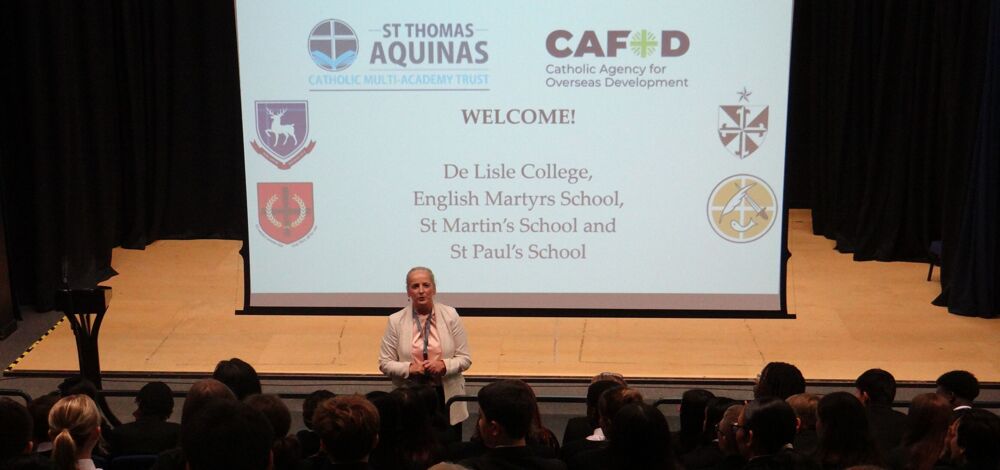 Students from De Lisle joined students from English Martyrs, St Martin's and St Paul's on Thursday 29 September for a CAFOD leadership day hosted at St Paul's school in Leicester.
At the start of the day, the words from St Paul's letter to Timothy reminded all the young people that God does not give timidity and that we should be filled with power and love. The theme of the day was focused on how to be leaders, helping others to challenge injustice in the world.
Students worked with Kirstie and Will, who work for CAFOD, to celebrate the progress that has been made since the introduction of the Sustainable Development Goals in 2015 and reminded us that there was still a lot of work to be done to eradicate extreme poverty. They shared eye-opening statistics about the extent to which so many people around the world suffer the injustices of poverty, which made everyone really think about what they can do to make the world more just.
Kirstie and Will spoke to the group about the "step up to the plate" campaign that CAFOD is currently working on which highlights how the food system in the world is broken. Students came up with some really good ideas to raise awareness of this issue and as a result, there will be acts of worship on this theme and fundraising for CAFOD taking place before half term.
Students worked in groups made up of students from all four schools. This really took courage on everyone's part, because they were working with people that they hadn't met before. However, with icebreakers, games and important discussion about global poverty, the students became confident and comfortable in each other's company and by the end of the day, there was a sense that new friendships had been made.
All of the staff and visitors from the day were so impressed with the maturity and sensitivity of the students involved. It was a wonderful experience.
Mrs Jinks, Assistant Headteacher / Head of RE